Made to measure riding boots created according to the best manufacturing methods. A perfect combination of tradition and research, an ancient craft in continuous style evolution.
"That's how craftsmanship turns into art"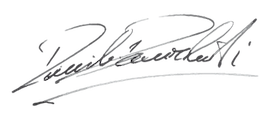 The experience of the best craftsmen is added to the highest quality materials used in the production process. All leathers go through a natural tanning process and are a result of a rigorous selection procedure in Italy. The care of exclusively made to measure manufacture makes every product unique. The extreme attention to detail distinguishes them as typical Italian style.
From model design to the finishing process every product from Stivaleria Parlanti Roma follows the highest work standards, an unquestionable prerogative of meticulous craftsmanship.
The recognizable features in every product made shows the passion with which Stivaleria Parlanti Roma has always worked and over the years these features have made it the most desired company in the equestrian world. Over 30 years experience dedicated to making made to measure riding boots unique in their genre. The greatest satisfaction of all is dressing the best riders in the world.
Top riders
Stay tuned
gabdav
"It is the love for my work that brought me here in Tyron at World Equestrian Games - explains Daniele Parlanti - A world competition made of confirmations, confirmations that I [...]
gabdav
The new member of the Ambassadors Parlanti team in the world is Steve Guerdat. The Olympic rider chooses the quality of Made in Italy excellence. Guerdat, class '82, boasts in [...]
gabdav
Fantastic victory for the Italian team at Piazza di Siena 2018 that for the second year in a row lead Italy to the top of the ranking of the prestigious Nations [...]